Kill Bill: Bill doesn't Die (1200 words)
Kill Bill is such a complex film that each time I try to write about it I just feel overwhelmed by the scale of the job.
There's already an article about it on this blog in which I specifically focussed on three scenes of it and it still ended up being a lot longer than I wanted it to be (and taking me ages to write).
http://belindakevin.over-blog.com/2016/03/beatrix-kiddo-is-wain-and-hypocritical.html
That's why, again, I'm only going to focus on one very specific aspect of the story: Bill's death.
Bill doesn't die.
I'm sure we will all agree that pinching a man's nose and giving him a slap on the chest is not usually lethal and rarely ends with a heart exploding.
Yes, I know, suspension of disbelief, it's a movie, we have to accept the rules of the universe in which the characters exist. I'm fine with that. Still, we can agree that Kiddo could have slapped Bill's chest without killing him, it's not as if she had ripped his heart off and taken a bite at it.
The specific move that she performs to kill him is usually not lethal and if she had not known Pai Mei's special technique, Bill wouldn't have died.
The thing is, she doesn't know Pai Mei's "five point palm exploding heart technique" and thus cannot perform it on Bill at the end of the film.
How do I know that?
Well, if Tarantino truly wanted to play on us the nice trick of making us believe that Bill dies at the end of his movie Kill Bill when actually the man doesn't, for sure he would at least have sown some kind of clue somewhere otherwise it would be pointless to have built the whole scam.
The best clue you can find is Kiddo's personality. But it would represent such a task to analyse it that I feel powerless in front of the work. I'm sure I'll write more stuff about Kill Bill, but god, one little thing at a time.
A more isolated clue is the mysterious "thank you" that ends the movie. I could never find a satisfying meaning to this shot. Appart from Bill, who could she be thanking ?
At some point, I thought she was thanking the audience. It might sound stupid but Kiddo takes the audience into account a lot. If she had winked at the camera before walking away with her little girl, it wouldn't have shocked anyone (edit: ah ah ah, and I've just seen the end credit wink for the first time today after having written this). But there, lying on the floor of her bathroom, crying… it doesn't seem very likely that she could be addressing the audience.
She's thanking Bill. But for what ? She killed him and it's not as if he did not defend himself. He only died because she won. Could she be thanking him for being nice even after she had condemned him to death with Pai Mei's move ? Well, that's a possible answer. It never satisfied me but it always felt like the best one.
But now I'd say that she is thanking Bill for faking his death. And to me, this works perfectly. She is truly grateful because she knows she would never have found the strength to kill him. She was stuck, so she pretended to inflict him the five point palm exploding heart technique so that he would understand how desperate she was. It was an intimate way of saying "please let me go !" And Bill accepted.
Why not simply talk, you'll ask me. Because Kiddo needs the audience to believe that she killed him, but that's another story.
By the end of her training with Pai Mei, Kiddo knows how to eat rice with sticks. I'm joking but truly not much is said about the success or the failure of this training or about Kiddo's relationship with Pai Mei. Even less about Pai Mei's special technique.
Now, my simplest argument:
After she's attacked him, Bill states "Pai Mei taught you his five point palm exploding heart technique." This line is some sort of reverse clue. Bill is surprised at Kiddo's knowing the attack. If she doesn't know this attack, she cannot perform it. If Pai Mei didn't teach Kiddo this attack, then she cannot use it. We just need an indicator that Kiddo doesn't know Pai Mei's technique. Bill is only as likely to be dead at the end of the film as it is likely that Kiddo knows the attack and he is as likely to be alive as it is likely that she doesn't know it.
Now, I'm sure we can agree that if there is a precise moment in the film at which Kiddo would totally use the five point palm exploding heart technique and she doesn't, it means Tarantino most probably has written this situation to underline that Kiddo doesn't know it.
Let's see:
Vernita Green ? No.
Go Go… maybe at the end of the fight ? Not really.
The Crazy 88. Na, it's a sword fight. No need for hand-to-hand stuff.
O-Ren Ishii. Same thing, she wins thanks to the Hatori Hanzo sword.
Bud kicks her ass.
Elle Driver… oups.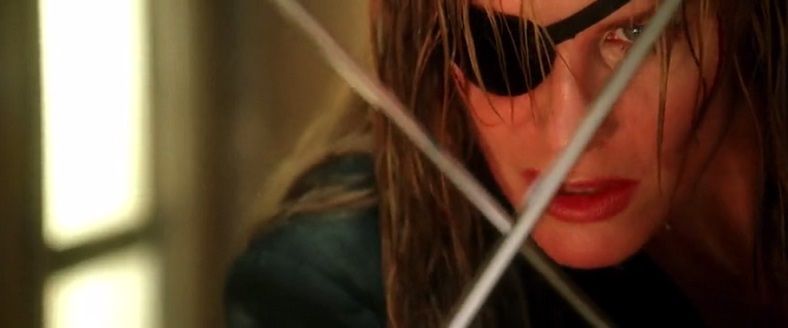 When Elle Driver and Kiddo find themselves both pushing on their crossed swords, Kiddo eventually gets out of the situation by ripping out Elle's remaining eye. It is a very similar attack to the "five point palm exploding heart technique" one. Of course Kiddo could simply have chosen to do what she did instead of Pai Mei's signature move, what makes me think that this behaviour of hers proves that she doesn't know the latter is the cliché revenge situation in which she finds herself.
Elle Driver has just told Kiddo that she has killed her master and it would only be logical that Kiddo would kill her using Pai Mei's famous special attack. It would be as if the master came back from the dead to avenge himself. The need for an apprentice to avenge his murdered master is developped "inside the movie" in the deleted scene I talked about in my other article.
Just after Elle's insult, Kiddo finds herself in the exact position where the technique would save her life. This is the perfect occasion to use it (Revenge Duty + Kind Reminder + Extreme need + Perfect situation) but she doesn't… because she doesn't know it.
And thus, she cannot be using it on Bill at the end of the film.
We also cannot help but notice that, although she was on the list, Elle Driver doesn't die. Kiddo writes a list of the people she should kill in order to put some order in her revenge. But she kills a lot more people, she spares people that she should kill and she destroys the lives of some others which she could have spared. She is a liar and a hypocrite and she betrays her real motivations through the contradictions in her behavior (that she hides by seducing the audience).
The fact that she doesn't kill Elle Driver and only makes her blind is symbolic... just like the fact that she couldn't kill Bud –but I'll explain that one in another article–.
Elle Driver was on her death list. The woman killed her master. Kiddo even announced her that she was going to kill her: "Bitch, you have no future." Why sparing her life in the end ?
Just before Kiddo wins the fight by ripping out Elle's eye, she actually is showing signs of weakness and panic which Elle notices.
In Kill Bill all the resolutions of fights rely on something symbolic. Kiddo cannot kill Elle Driver anymore because Elle knows that Kiddo is fake, she is not that good, not that perfect, not that unstoppable. Hence the removal of the eye: Elle has witnessed something she shouldn't have.
And that's also the truth that lies behind the incapacity to kill Bill. As soon as her daughter reappears Kiddo cannot kill him anymore. Of course she still has a lot of reasons to do so, but she cannot.
Bill snaps his fingers and wins the fight. Not to mention the fact that he manages to shoot her in the knee some hours later. He could have killed her whenever he wanted...
Killing their child was the only thing she couldn't forgive him… which is why seeing B.B. (Bébé/Baby in French and "Beautiful Blonde" at the same time) is fatal to her, because it makes her powerless in front of Bill...
It's also why Bill stole a woman her child in order to bring Kiddo to believe hers was still alive.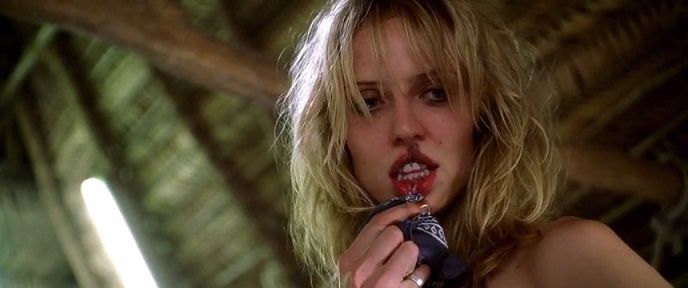 I really wonder why we're introduced to this "beautiful blonde" who looks like kiddo and has had her mouth slit just before the last act. Is she holding a secret that devoures her from inside ?
edit: another point that I didn't make because in itself it's not exactly an argument is why would Kiddo take the risk of killing four supertrained killers (Vernita, O-Ren, Bud, Elle Driver), plus all the other people she kills, before getting to Bill ?
Bill shot her in the head, not them. Oh, they killed her to-be-husband !?! She never talks about him again, she doesn't care about what happened to him. Yep, she used him without any scruple and doesn't even feel bad about dragging him into the mess that costed him his life.
If truly she had had that irrepressible desire to kill Bill because he made her lose her "baby" she would have gone straight to him. Actually, the fact that she should write a list underlines how "indifferent" she is to what she's doing. If someone hurt me and I wanted to make them suffer in return, I really wouldn't need a list to remind me who I want to see suffer. Revenge is not something cerebral.