The Hitcher (1986) : More Homosexual Subtext (1000 words)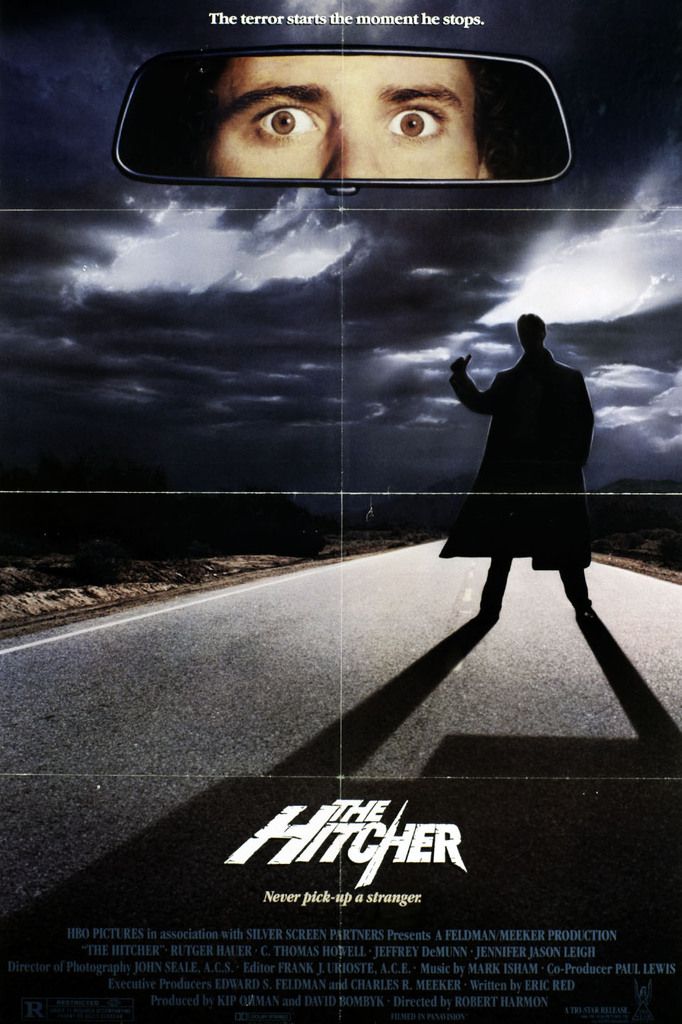 The guy. The eyes in the mirror. The Storm. "The Hitcher, the guy who forces you to confront your true self."
The Hitcher is a very good B-movie. While watching it two days ago, I felt very happy to simply discover that this cult classic (I believe) was a very respectable flick with undeniable qualities.
What annoyed me though, is that it was yet another homosexual coming out the closet metaphor, that it was very noticeable from the start and that it ruined most of the horrific effects for me because yeah, it's only about two guys attracted to each other in a society in which they're not allowed to be.
I mean, the story is about a crazy hitch-hiker who kills people. It sounds like your average slasher with a nice premise. The final product however, is not a slasher movie but a strange horrific thriller in which the killer appears so very sporadically that it'll make you wonder if the prod simply didn't have enough budget to ask for more from Rutger Hauer. Instead it focuses on a boy called Jim who is driving from Chicago to California and on whom the hitcher is going to try to pin his murders for some unknown reason. So, I'd say a good half (45min) of this killing hitch-hiker movie is about a young man who is trying to escape from the cops and devoid of any killing hitch-hiker.
If you don't spot the homosexual subtext, Jim, the main character, must feel very bland. And the Hitcher, however great Rutger Hauer's performance is, is not given any motivation or character trait. He is a very good villain though, it's just, he is not going to give the story much substance.
All I'm saying is that if you don't spot the metaphor, the movie must feel very random and underdeveloped. Anyway, let's start.
I don't know from Chicago and California which place is supposed to represent the boy's sexual orientation. Does he come from a place where he could express his sexual urges freely or is he going to a place where he hopes to be able to do so ? I don't know. I'll take the trip as a liberating one. Jim falls asleep while driving and nearly has a car crash with a truck.
Contemplating death in the eyes makes him necessarily think about what he is doing with his life and thus about his repressed sexuality (It's often the role of near accidents). As a consequence, he takes a beautiful sensual hitcher. The first thing that Jim tells John is "My mother always told me not to do this." Homosexuality can be related to a mother who prefers a son to her husband and by saying something about his mother straight ahead, Jim announces himself as a homosexual (this is not a rule, just a clue, an element that bears connotations). Jim and John flirts together but Jim eventually chickens out that which makes John go crazy.
John touches Jim's thigh twice. The first time because they are passing by the vehicle of his first victim and the second time when they pass a roadblock and a worker explains them what's going on. John presses his switch-blade knife on Jim's genitals and the worker believes they're gay.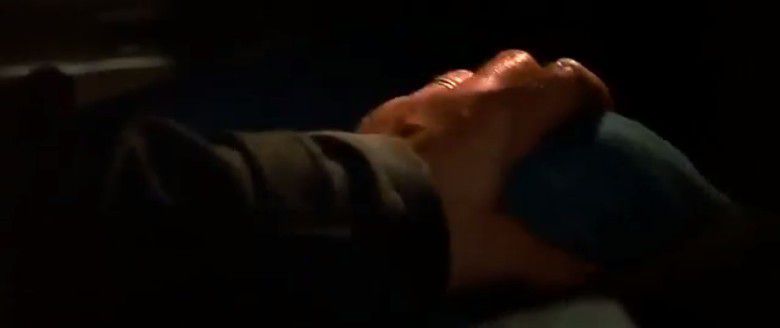 John blows the guy a kiss. The whole operation forces Jim to experience the gaze of another man who thinks he is a homosexual. It's a first step towards acceptance.
The elements thrown into the mix are typically related to a homosexual subtext: the dissatisfied strong-minded girl who can't find a man because she can't stand being dominated -in a patriarchy guys are not interested in girls like that- and the nasty stupid cops, incarnation of the oppressive heterosexual patriarchal order. John's first victims are a family, because as soon as Jim accepts his attraction for men he has to give up on the American dream.
"Kill your parents." Well, this psycho killer isn't so crazy after all. (It was meant to be a bad joke and it is).
During the first half of the film, there isn't any proof that John isn't a simple construction of Jim's mind. This is because all the characters consider homosexuality to be a crime and as Jim's interactions with John are the metaphor of his attempt at accepting his own homosexuality, it is very logical that there should not be a difference between him and the guilty one. Until he meets Nash, another outcast (strong beautiful woman with a guy's name) who identifies with him, sticks her heads out for him (betrays the patriarchy by saving him from the cops) and eventually gets killed because all that she wanted was to be acknowledged as female by a man, something that which Jim cannot provide her.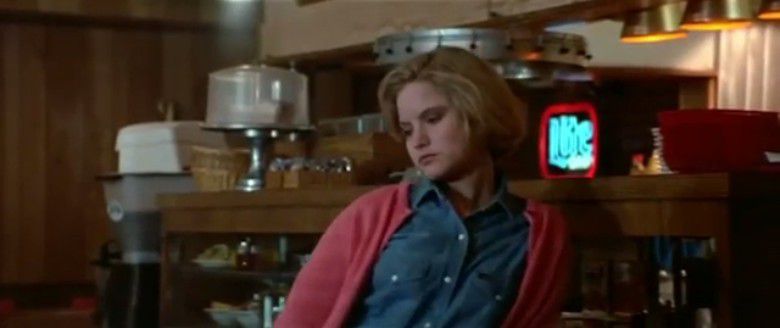 Jim and John tear her in two pieces by attaching her to a lorry and pulling on her legs with a truck. I know it's absolutely horrible. Two pieces, up/down, head/sex, mind/body. Nash dies because she prefers Jim's company to the one of any stupid macho, but he will never be able to satisfy her sexually and make her feel like a woman. Hence she dies torn between her personality and her sexual urges.
Before John pushes on the accelerator, Jim has an opportunity to kill him but doesn't... because he actually prefers the killer to the woman who saved his life. The reason why he doesn't shoot is supposed to be because John would kill her anyway, as if the truck was going to drive itself. It's the cops who tell Jim that, but the cops want to see the girl die too.
It's hard to be a tough autonomous woman in 1986.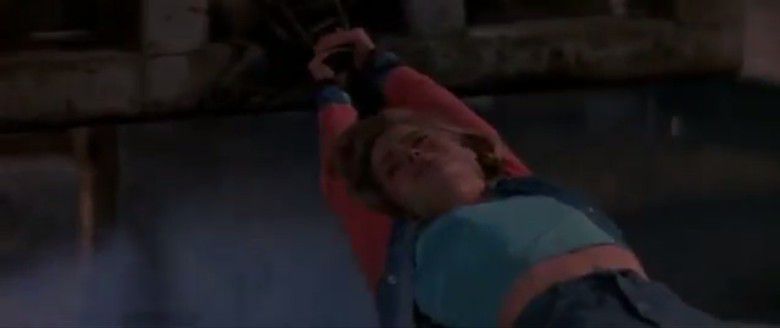 It could have been worse, she could have been hanged by two sadistic men. (Jennifer Jason Leigh joke)
Eventually and expectedly, John is captured by the police and then escapes by snapping his fingers (Finger : phallus. As he is a homosexual he can't be trapped inside a manly role and thus escapes through the destruction of a phallic symbol). Jim catches him and kills him before smoking a cigarette near the police car. He is ready to be the next hitcher... or more, he's got a cop car, he might be planning to take on the patriarchal law.
There is one thing that truly annoys me about this holy trinity of the repressed-homosexual-man movie and it's that there's no non-fascist heterosexual guy. Just like in Commando. Every single hetero is a misogynist tool of the patriarchy who revels in his dominating position and who hates gays and interesting non-conformist women. There might be a good cop at some point maybe: the guy who says that Jim is obviously innocent. But I'm not sure that it's not hinted that the cop is homosexual too.
I wish Jim could be perceived as a non-fascist hetero who is going to become sensitive to John Ryder's life as a homosexual.
And it's actually pretty believable when at the end of the film, Jim lies against the cop car. As a hetero guy he is more likely to get the power and help homosexuals. The problem is, if he is hetero why not having sex with Nash and why letting her die ? I mean, okay he is not necessarily attracted to her but she is pretty, she saved his life and she is existentially in need of sexual recognition. If he was heterosexual I think he'd make a little effort.
So yeah, he's gay, and there's no positive male hetero character in this film. It's annoying.
It's still a nice movie though.