Three Billboards Outside Ebbing, Missouri: Abercrombie is Covering up for the Murder. (1200 words)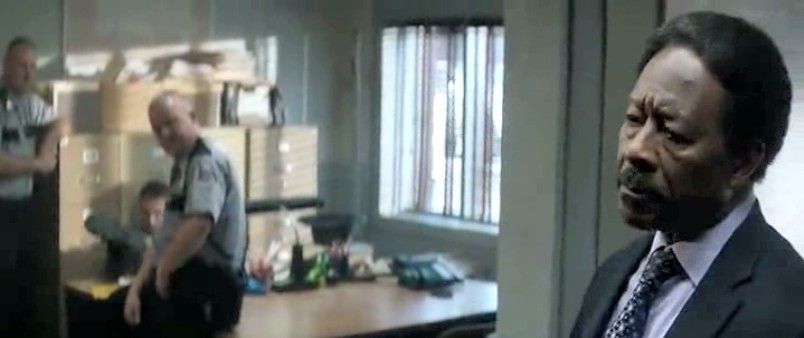 When Abercrombie shows up in Three Billboards and insults everybody in the police station, we all applauded. "Yeah, these fuc**rs are gonna get their a**es kicked ! Yeah, the racist, violent retard is going to be fired ! Yeah, we're going to see some justice, some order ! Hurrey !"
And then nothing happens. Why ? Because Abercrombie is here to whitewash the case. I'm not making a pun but I do believe Martin MacDonagh might have chosen a black actor for this role exactly for that reason. The prejudiced audience will trust the black charismatic sheriff when his behaviour and apparition are actually seriously suspicious.
When his mother asks Dixon whether he is going to obtain some money for his being laid off, Dixon funnily answers: "I don't know what the compensation scheme is for when you throw a guy through the window."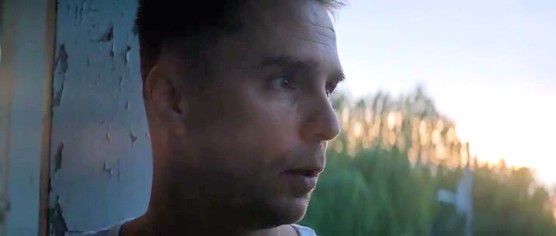 The thing is, the official side of Jason's dismissal is never tackled in the movie (He even has to ask a colleague because he doesn't know whether he's fired or suspended). At some point, the same colleague asks him to bring back his keys after the working hours. While saying this the man gives Abercrombie an anxious look: the Sheriff scares his employees. He SCARES them; they will not do anything to displease him. When he enters the police station for the first time, the desk sergent asks him:
- Hey, what can I do for you today sir ?
Abercrombie goes "What's your name ?" in a threatening manner, like he is going to put him into some trouble. The desk Sergent won't let a stranger speak to him so improperly and answers "it's on the tag, are you hard of reading ?" that which triggers a very long and condescending answer from Abercrombie.
The new sheriff is asserting his authority, not by being respectful, not by following the rules, but by being a condescending, threatening asshole. Why ? Because he knows he will need to be able to frighten his employees if any of them so much as talk about the Angela Hayes case.
The best thing he could do on this first day is to lay off one of them. Why not provoking the desk sergent until the guy insults him ? Like by refusing to show any documentation.
- Do you have any documentation to prove that sir ?
- You really wanna see my documentation fucker ? (that's completely uncalled for)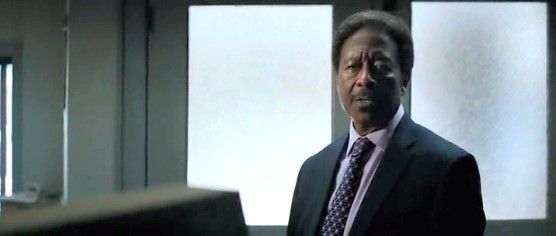 If this isn't provocation, what is it ? Professionalism ? Then he goes on throwing racist slur at them.
- None of you cracker motherfuckers got no work to do ?
Of course, we spectators accept this because it is implied that Abercrombie is reacting to racist behaviours… except that he isn't.
Anyway, the important part is that the guy who is working on the Angela Hayes case is laid off and the reason why he beat the crap out of Red Welby is never looked into. Ah yeah, everybody knows that he beats the crap out of Red because he is homophobic and red is a homosexual.
Are you sure of that ? What if there was a real reason ? Like for example, the fact that Red Welby owns the billboards and should have stopped Mildred Hayes (in Dixon's opinion). Ah yes, but there's a scene where Jason teaches Red that Bill has pancreatic cancer and therefore becomes less angry at the young man for complying with Mildred's request because he didn't know that Bill was seriously ill.
Where am I going with this ? Well, Red Welby knows something about the Angela Hayes case and Jason Dixon cracks on the day he learns about Bill Willoughby's suicide. That's why he goes beat the crap out of the young man and the guy forgives him so easily. Red forgives Jason because he understands that the cop would want to throw him out the window. And that's also why Jason hits the screaming secretary: because her naivety is despicable. She works for a murderer or a psychopath and she isn't even capable of noticing that there's something wrong. I'm not saying he is right to do so, I'm explaining a very shocking gesture.
And so, this violent aggression is never tackled again. At the beginning of the film, there's a dentist who presses charges against Mildred because she punctured his big thumb but here, we've got a guy thrown out of a window who doesn't press charges and even forgives his aggressor super quickly.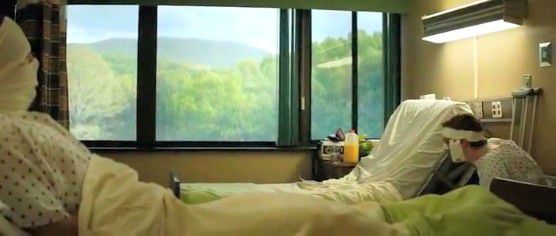 I'm not entirely sure of what's between Dixon and Welby, but there's something behind how quickly Welby forgives the cop. He actually doesn't even forgive him, he forbids him from feeling guilty. Welby considers that his aggression is entirely justified.
So, why is Dixon laid off then ? What's the official reason ? Because he shouted "are you fucking kidding me ?" when a random guy entered the police station and said "I'm the boss now" without even showing any documentation ? Because he told Abercrombie to mind his own business when he asked a question about the Angela Hayes case ? How suspicious. I'm not surprised that there shouldn't be ANY official reason why Dixon is fired then. (Actually, he is not even fired).
The fact that Jason Dixon has just lost a very close friend (It's quite probable that he was in love with Bill too) is never talked about. As incredible as it might sound, his firing is close to unjustified. Of course, the movie makes it look like "aggression" "racism" lack of respect for a superior" but for each of these ideas, there's actually a reason why they shouldn't count… and in the end the laying off without any official statement is very suspicious.
What about the fact that Abercrombie doesn't ask more questions after this exchange with Mildred:
- I'm not gonna arrest you Mrs Hayes, I have got nothing to arrest you for.
- Not yet you ain't.
- We ain't all the enemy you know.
And then she burns down the police station in which was, what a coincidence, the sole guy who still cared about the Angela Hayes case… and ho, surprise surprise, the file still was on his desk. Doesn't it contradict Abercrombie's last sentence "we ain't all the enemy ?" How dares he tell this to Mildred Hayes when he fired the guy who was investigating the murder of her daughter and didn't put anyone else on the case ?
Ah yeah, and isn't it suspicious that he shouldn't arrest her for the burning of the police station ? I mean, seriously !?! She is as obvious as if she still had a Molotov cocktail in her hand.
Last but not least, when Jason Dixon meets Abercrombie for the results of the DNA test the Sheriff is nice and praises him with a "You did good Jason, you did real good" and then explains him that he's just assaulted an innocent guy for no reason. Wahou, that's convincing. Shouldn't he be extremely displeased with Dixon's behaviour ? And also, how come he still is talking to him as if he was a member of the police force when he fired him a few days before ? He should be like: "Are you fucking crazy ? I could have you arrested for this ! You're not a cop anymore Dixon ! Get this into your head !" Instead of this very understandable anger, he's all nice and sweet.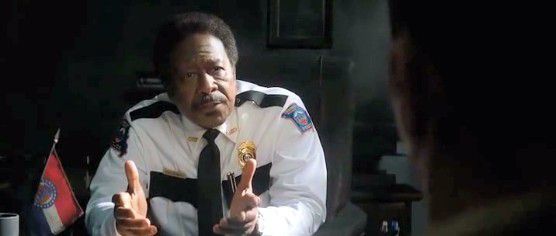 - But he wasn't the guy. […] There was no match for the DNA. No matches to any other crimes of this nature… to any crimes at all in fact and his record is clean. […] He wasn't even in the country. […] He ain't our guy.
Abercrombie's attitude is perfectly adjusted in order to get rid of the question. He is nice, warm and non-confrontational (when he should logically be angry).
The final twist of fate should be that the guy that they're visiting at the end of the movie is actually truly Angela's killer.
To me it looks like the guy who killed Angela Hayes is untouchable for some reasons and that Arbercrombie was sent to smoothly put an end to the investigation.
(If you liked this article you can also check my Clues of a Subtext article. A lot of these "clues" can be found in 3 Billboards: n°2, 10, 11, 12, 14, 16, 17, 18, 20, 21, 22)