My Week With Marilyn: The Myth of the Irresistible Woman and the Destruction of the Belief in Men's Innocence.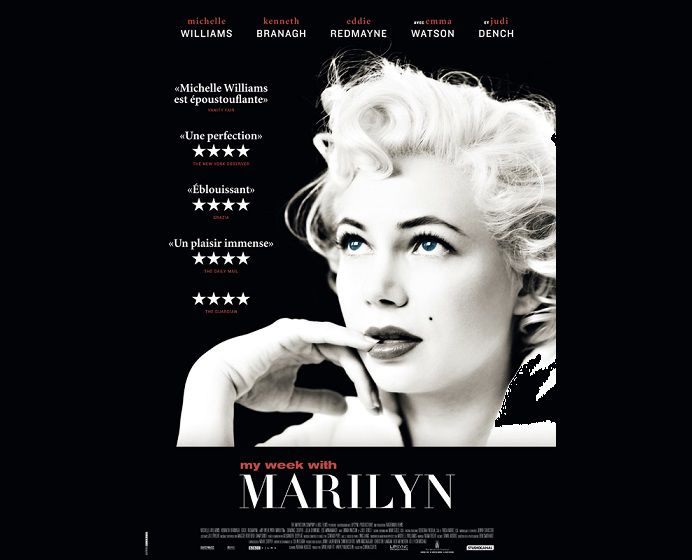 My Week with Marilyn shook me up pretty well. I've been trying to write an article about it since I saw it in october, this is my tenth attempt. I've now watched the movie four times. It's starting to become torture. Yet, I still want to write something about it, I cannot not write something, its subject is too important right now.
One thing I have to say before I start is that I've always been particularly indifferent to Marilyn Monroe's charisma. Even when I was a kid I saw it as disagreeably forced and constructed and when I eventually saw a movie in which she was, Some Like it Hot, I found her slightly dull and dumb even more so when her male counterparts were funny. I was about twelve years old and just thought "why would Joe (Tony Curtis) fall for such an uninteresting woman ?"
------------------------------
The origin of my urge to write about this movie is at 55 minutes when Lucy (Emma Watson), Colin Clark's recent girlfriend, breaks up with him because he's spent an afternoon with Marilyn Monroe and it made him forget about a date with her.
Lucy - I waited for you on Friday.
Colin - Lucy, I'm so sorry. I completely forgot. I just... I've been so busy.
Lucy - So I hear.
Colin - Well, you know how crews gossip. There's nothing in it.
Lucy - Of course there isn't. Marilyn Monroe fancying you? Come on.
Lucy - I thought you were different.
Colin - I really like you, and we have fun.
Lucy - And now it's time to set your sights a little higher. Well, good luck.
There is a crushing, tragic, monstrous inescapability to this scene. Of course Colin stood his girlfriend up to spend time with Marilyn Monroe, of course Lucy is outraged, of course, she holds a grudge against him, of course, she doesn't believe in his excuses, of course, she leaves him. What else could he expect ?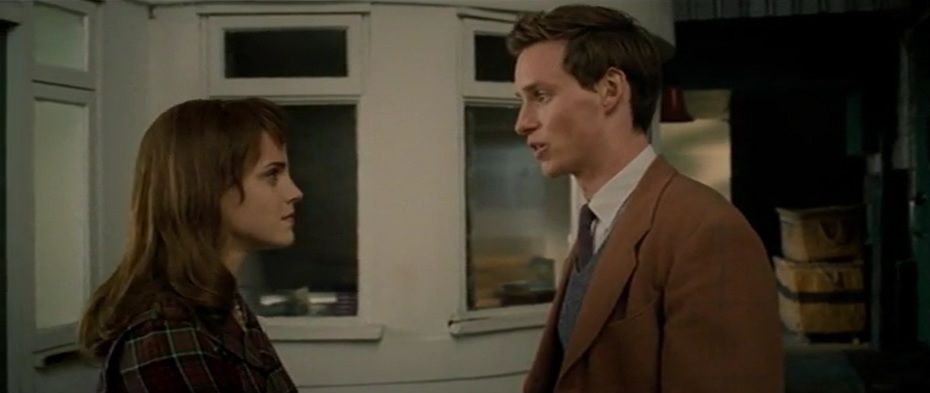 The problem is that in reality, nothing is a matter of course here. Lucy is judging Colin based on things that he cannot control and that are exterior to their relationship. And more important, she doesn't give him the benefit of the doubt. It is a tragedy that anybody could look at this scene and think that Lucy is right to talk and behave the way she does. Whether Colin could be attracted to Marilyn doesn't matter at this point. In front of Lucy is a young man who tells her he likes her and wants to spend time with her even though he forgot one of their dates because he is so incredibly busy (his career is very understandably his priority). And that's the truth. He hasn't done anything wrong and yet, he's already facing trial and his honest words have no weight.
Of course, his story with Marilyn seems to confirm the fact that Colin was interested in the actress, but after how Lucy talked to him, there's no reason why the young man shouldn't allow himself to turn to another woman.
I think most people are blind to how, in our occidental consumerist cultures, many women can be very insulting to men for feeble reasons and how men with self-respect have to give up on their love interest so very often because they behave horribly to them. This for example:
Colin - Well, you know how crews gossip. There's nothing in it.
Lucy - Of course there isn't. Marilyn Monroe fancying you? Come on.
Colin would never utter a single depreciative word to Lucy, but as soon as she's slightly worried about their relationship, suddenly he is a ridiculous man to think he can be found attractive. She likes him and can perfectly imagine how Marilyn could fancy the young man too but instead of saying so, she insults him.
The scene might look like the one of a woman with dignity ditching a man who proved not to be capable of treating her with respect. But the truth is that Lucy is a coward and she indirectly acknowledges the idea that she has nothing to offer that could rival with what Marilyn has to offer. It's even funny how she makes it clear:
Colin - I really like you, and we have fun.
Lucy - And now it's time to set your sights a little higher. Well, good luck.
She is not trying to be something positive in Colin's life, she's not trying to make him feel beloved, useful, charming, funny, trustworthy** etc… no, she just tries to lower his self-esteem and make him feel guilty so that he doesn't dare try anything with Marilyn. She considers women as trophies for men, and she indirectly acknowledges the fact that Marilyn is a better one.
**Zombieland 2 also has an interesting plot for that matter.
Colin tries to tell her why she is more to him than Marilyn. He has fun with her. He doesn't have fun with the superstar. That's a real argument he is making but Lucy is blind and alienated and she ends his sentence in a way that he would never have: "it's time to set your sights a little higher." She teaches him Marilyn's superiority. Of course, she says it as if it was obvious that it was the young man's point of view. The problem is that if that's not what's on his mind, she's telling him that it should be, that it is unconceivable that it isn't. Moreover, and that's quite ironical, she adds that he's just like every other man. Why shouldn't he want to be like other men ?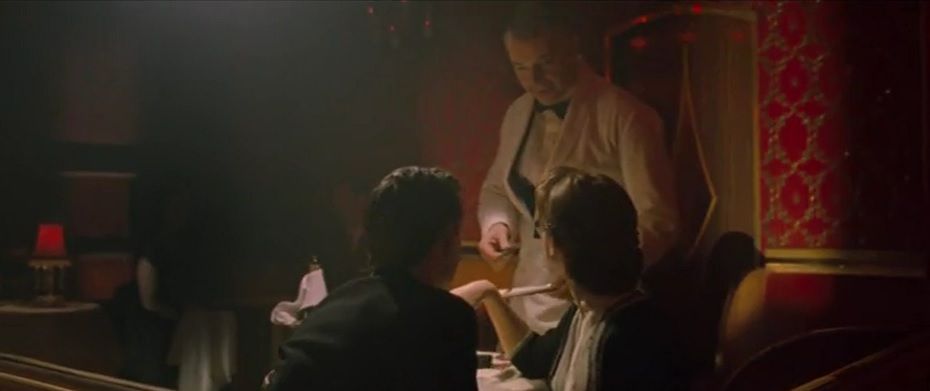 The waiter asks Colin if he should put the diner on his father's bill that which makes the young man uncomfortable. He assures Lucy that he was going to pay anyway but she doesn't believe him. From the start she's prejudiced and distrustful.
Lucy's remarks are misandrist, she assumes that Colin wants to be superior to other men because obviously men are worthless, and doesn't realise that maybe he precisely wants to be like other men, he wants to be acknowledged as a man. We know that he is the youngest in "a family of over achievers" and that he always "was the disappointment."
if Lucy had acknowledged what she liked about him it would have had a greater impact upon him. If she had told him: "You're too much of a man to be attracted to a fraud like Marilyn Monroe" it would have been more likely to work. If she had praised him, if she had made love to him, but absolutely everybody tells him and behaves according to the idea that men shouldn't be able to resist Marilyn Monroe.
So, this scene between Lucy and Colin truly ran through me like a sword. It depicts something that I find intolerable. We live in a culture in which innocence, honesty and trustworthiness aren't expected from men even when they are obviously there.
Colin finds Marilyn Monroe attractive and arousing, that doesn't mean that he thinks having sex with her would be a good idea, that he'd be ready to sacrifice anything to this goal or that he doesn't find her temper annoying.
The reason for the injustice that is made to Colin isn't mysterious; it is the condemnation of the male libido. This topic is a core problematic of My Week with Marilyn.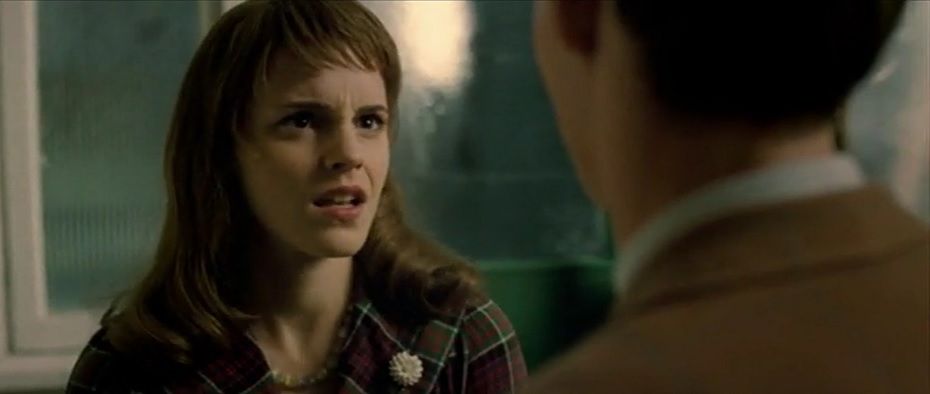 1- Marilyn Monroe's persona revolves around always welcoming men's sexual attention in a light and playful manner as opposed to condemning it.
That's why she is so popular and that's what the introductory songs are about, and she certainly doesn't try to convey the message subtly.
[…]
We're having a heat wave
A tropical heat wave
The temperature's rising
It isn't surprising
You certainly can (You certainly can rise => Have an erection).
I started this heat wave
By letting my seat wave (By shaking her butt)
[…]
So, she's an attractive woman who makes men feel good about being attracted to her. She frees them from the guilt associated with their libido in the culture they grew up. She allows them to recover a bit of their long lost innocence.
Sadly, she's far from being well-intentioned or benevolent, her behaviour is manipulative and destructive. She is elated by the power she derides from this approach, worse, her whole life is a chase after tokens of her domination.
When she and Colin visit the boarding school of Eton (1h01min) where Colin was sent when he was 8 years old, he explains Marilyn that if you don't work hard enough you get whipped here. Several pupils recognize her and very quickly Colin and the actress are surrounded by them. Marilyn blows them a kiss and exclaims: "Work hard! I don't want anyone whipping you." Of course, immediately she obtains the answer that she was looking for: "You can whip me anytime Marilyn."
She answers this by walking up to the kid and kiss him. Marilyn turns men's guilt against them: she doesn't blame them, but she wants them to hurt themselves as a result of their attraction for her. She does this in front of Colin.
This is a very common dynamic. Many women perceive self-harm, submission and self-humiliation as tokens of appreciation and interest and do not realise anymore that it's actually completely morbid. Marilyn Monroe doesn't blame men for their libido but still expect them to hurt themselves or to get hurt for her. It's not a direct result of their guilt anymore, it's just a token of their attraction. "You can whip me anytime you want Marilyn", she should object to this behaviour, instead she kisses the boy.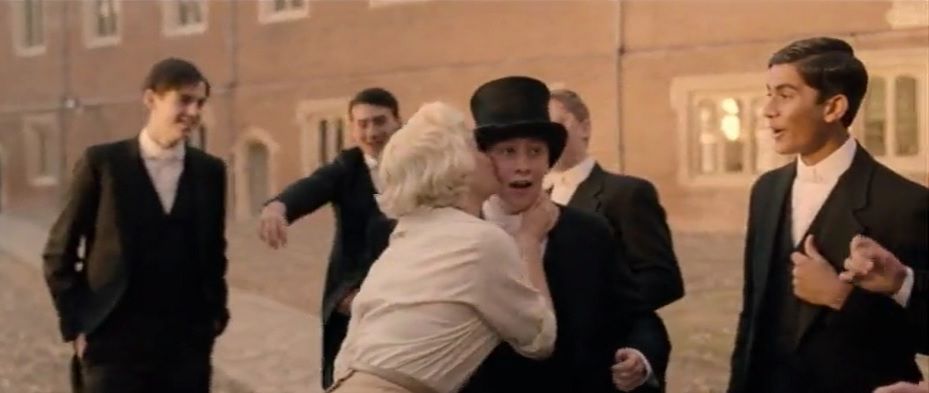 2- Laurence Olivier and Colin Clark are both incarnations of virtually perfect men whose attraction for women should never backfire.
Laurence Olivier hurt and humiliated his wife by choosing Marilyn Monroe for the main role in his movie for the foolish reason that he is strongly attracted to the actress. In his first scene he very crassly refers to her "magnificent butt." Later on he ridicules himself by trying to make himself appear all charming and charismatic.
However, it takes one day of working with Marilyn Monroe for Laurence Olivier to loathe her, abandon his strange attitude and go back to treat her on an equal foot with the other actors. He even asks Marilyn to apologize to another actress for her incompetence and lack of seriousness.
His conclusion after this ONE DAY is "What did I get myself into ?" The man is perfectly aware of how insufferable Marilyn Monroe is. Her "charisma" doesn't blind him. The mistake he makes is to feel guilty, it is to think that he got himself into something and not to realise that he fell into a trap, that he is a victim.
What prevents him to do so is that he was driven by his libido, by his attraction to Marilyn Monroe and nobody has any sympathy for a man who falls into a trap for that reason. If you're attracted to a woman and she destroys your life with a smile, that's your fault for having been guided by your attraction to a woman. No sympathy. Fuck you. You're a superficial pig. Die.
Laurence will tell Colin: "Remember, boy, when it comes to women, you're never too old for humiliation." In other words: "In this culture, nothing and no one will protect you from women. People will have no sympathy if a woman seduces you and takes advantage of you."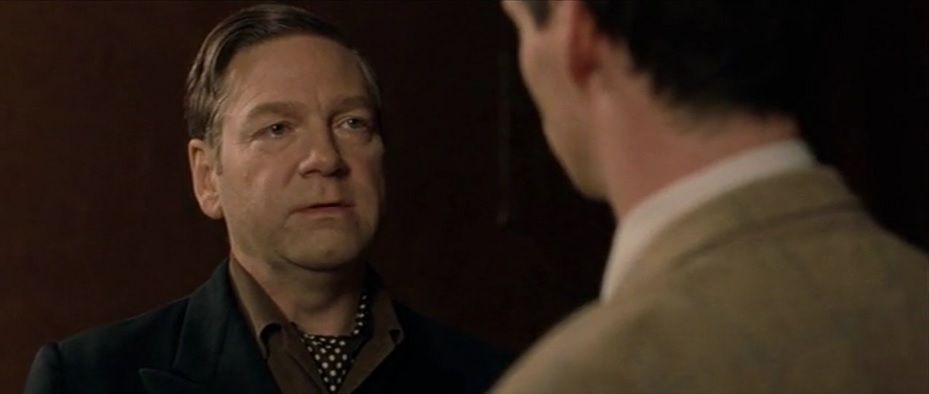 Isn't Laurence Olivier exactly the kind of man who should have been spared the humiliation ? Not because he is famous or talented, but because of how he behaves towards women. He admires talent, work, temper, personality, depth, he isn't a shallow man and if Marilyn Monroe managed to seduce him out of his ways** for a short period of time, the women and men around him should have benevolently warned him that he was making a mistake, they should have given him a kind support, they should have understood what was going on and they should have helped him get out of the trouble he was in. More, he should have been told that he wasn't ridiculous, that that kind of things happen. More than anything, he should have been trusted. Instead, he's left alone in his misery, blamed and judged. (I find Dame Sybil particularly stupid on that matter).
**The video of her recruitment is showed at the beginning of the movie and it is summed up by Marilyn showing her cleavage and asking "too much ?" as if she didn't do it on purpose and as if she didn't know whether there was something wrong in undressing or not. But the problem comes from the "male gaze" not her behavior. She's innocent and pure even when she proposes to undress in front of the director of the movie she wants a main part in.
Vivian Leigh is very understandably hurt by how she was pushed aside by her husband but when Laurence Olivier shows her the rushs for the movie she reacts poorly:
Vivien - I didn't think she would be so beautiful.
Marilyn Monroe (in the movie) - Disgraceful!
Vivien - Oh, she shines on that screen.
Laurence - Oh, darling. Puss, don't upset yourself. You are ten times the actress she will ever be.
Vivien - Oh, if you could see yourself. The way you watch her!
Laurence - Oh, Vivien, you're imagining things.
Vivien - Please. I hope she makes your life hell.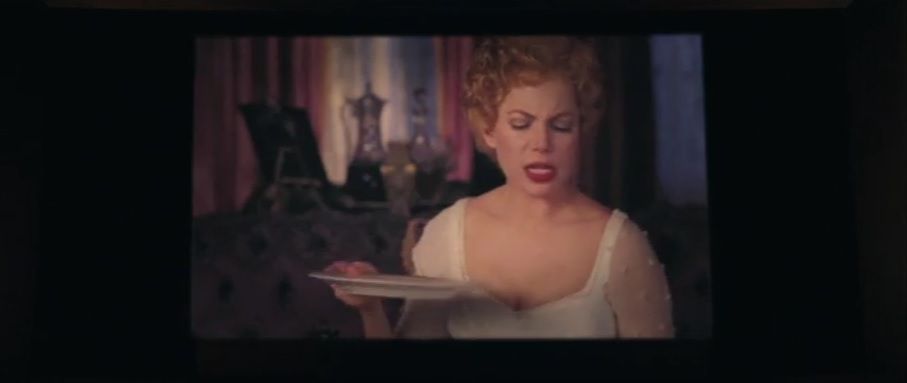 Just like with Lucy and Colin, the woman blames the man for his behaviour while acknowledging Marilyn's superiority and suggesting that even though he's an asshole, it still is understandable that he should choose Marilyn. But he's an asshole for doing so.
Yet, the rushs that Laurence has chosen do not bring Marilyn's charisma out, in fact, she looks drunk in them. Vivien could have had the courage to be critical "she looks dumb. She's nothing special. I know I'm too old to play the part but really any actress her age would have been a better choice." and Laurence would have agreed and complained about how horrible the shooting of the movie has become. This moment could have been their reconciliation if Vivien had had more esteem for her man and more trust in herself.
Laurence Olivier cannot tell her that she's more beautiful than Marilyn, that would be a ridiculous lie. But he tells her that she's a better actress. Vivien could have accepted the compliment: "do you really mean it ?" Instead, she blames him for the way he looks at Marilyn, meaning that only beauty matters to him. Again, sure, she suffered from seeing that her man was indeed attracted to another woman, but if she wasn't ignorant on the matter, she would know that she cannot reproach him with this because he is not a shallow idiot. Marilyn is younger and more beautiful than she is and she expects Laurence to pretend that it's not the case when earlier in the movie she says: "You see, the truth is all that matters to him, and that's why we all admire him so very much."
With her conclusion "I hope she makes your life hell", she hands Laurence over to Marilyn for her to do whatever she likes of him. His attraction for the actress makes him deserving of destruction.
Earlier in the movie she also tells Colin this:
Vivien - Marvellous, isn't she?
Colin - She's all right.
Vivien - Larry fell desperately in love with her in New York. He's determined to seduce her.
Colin - Yeah, but she's only been married three weeks.
Vivien - I thought you were a man of the world. Of course, Larry would never leave me, but if anything were to happen you would tell me, wouldn't you?
Colin - I'm sure he loves you very much.
Vivien - Oh, don't be such a boy. I'm 43, darling. No one will love me for very much longer. Not even you.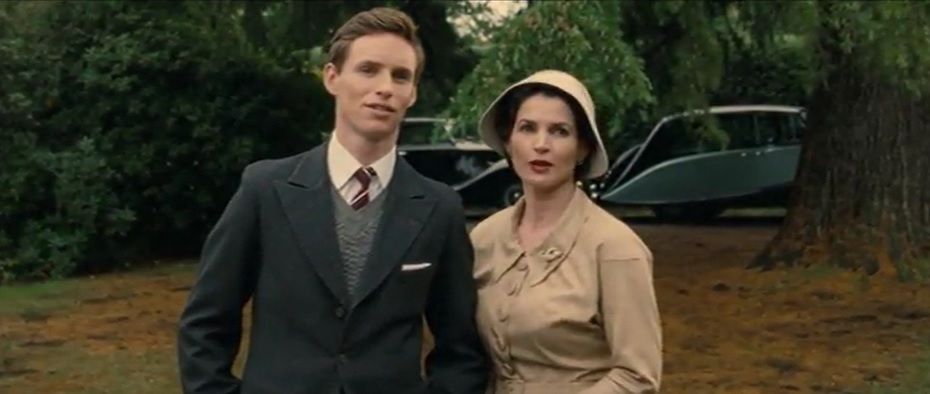 Again, Vivien leaves no room for the idea that men aren't dogs. Colin nuances her "Marvellous isn't she" with a "She's alright." He's not saying that Marilyn isn't gorgeous, he's saying that there's more to a woman than her looks and ability to arouse men. But Vivien refuses to hear that kind of discourse.
She could also have faith in the fact that Larry is going to find Marilyn insufferable very quickly… that which he is going to.
Also, if she is so scared of seeing Laurence cheat on her with Marilyn, why does she support the idea that she is old and that at 43, no one will love her for very much longer ? This remark is incredibly violent, sexist and doesn't make much sense in the context.
Vivien firmly believes that men are only interested in beauty and youth. As a consequence while absolutely terrified by the idea that Laurence could sleep with Monroe, she's also incapable of realising that there's something incoherent in his attraction for her. Laurence is 49, he is afraid of getting old and he needs to be reassured, instead Vivien shows herself obsessed with youth and physical appearance. Any man who loves Vivien would be shattered by her horrible statement "No one will ever love me for very much longer." Colin kindly tries to contradict her: "I'm sure he loves you very much." As an answer he gets emasculated: "I thought you were a man of the world." "Don't be such a boy."
Bing ! Vivien has just taught a young man that if he thinks love is more important than Marilyn Monroe, he's just a boy, he's not a MAN, he's not a legitimate sex partner for a woman, he's naïve, laughable and annoying. The "not even you" is particularly ignominious, Vivien deprives Colin of the possibly of thinking himself potentially different from the horrible idea she gives him of men. Through this, she asserts that if he has a chance with Marilyn and doesn't seize it, he'll regret it for the rest of his life.
I would be ready to believe that if she says "of course Larry would never leave me"it's only out of dignity, but that truly she is scared that he is going to leave her. The problem is that just before she states that "Larry fell desperately in love with her in New York. He's determined to seduce her." If Larry is truly in love with Marilyn, why is Vivien still here ? What is she trying to protect ? What's important for her in her relationship with Larry if not love and attraction ? Colin tries to reassure her on the matter "I'm sure he loves you very much" because that's what matters most. But the way Vivien talks, what matters to her is that he remains hers whether he loves her or not.
At this point, Vivien doesn't value Larry's love (enough). She values being Laurence Olivier's woman. Exactly like Marilyn Monroe doesn't care about Laurence Olivier as far as she can be in one of his movies an replace his wife.
In all this, Vivien Leigh misses the fact that maybe Laurence Olivier is still with her because he doesn't take what's happening seriously, because he loves her and is perfectly aware that he will never love Marilyn Monroe. He will confess to Colin that he "thought working with Marilyn would make [him] feel young again." But because he is a man, and she is Marilyn Monroe, suddenly, it's all about cheating on Vivien Leigh, being in love with Marilyn etc etc… nuanced motivations in men are hardly conceivable in our cultures when a beautiful woman is involved.
So when I say that "Laurence Olivier and Colin Clark are both incarnations of virtually perfect men whose attraction for women should never backfire" I don't mean that if a man is great then he should be allowed to behave without any consideration for others. I'm talking about the fact that both Colin and Laurence aren't weathercock and that if they behave in a certain way there most likely is a serious reason for it and that instead of trusting them and their coherence, the women around them trust their prejudices against men and worse, they confine them in the exact patterns of behaviour that they denounce.
Simply, the male libido is evil and any occurrence of it has to be blamed and punished, even when that's the most beautiful thing these women have in their lives and they do everything they can to attract men's attention. Lucy, Marilyn and Vivien all crave for men's attention, two of them resorts to guilt in order to manipulate them, the other presents herself as the one who will enjoy it selflessly, humbly, as the compliment it is, this in order to prevail.
Lucy and Vivien push the men they love towards Marilyn Monroe. They are engineers of what they fear the most.